Inspiration
The Colours and Motifs of Charleston
in Firle, Rodmell and Tilton
With so much inspiration in every corner of Charleston, there's elements everywhere which you can bring into your home that give a knowing wink to the modernist motifs championed by the Bloomsbury group and their contemporaries. Whether it's using bright, directional colours or something smaller like adding repeat circle shapes, there's something for every Interior – and every Interior Designer!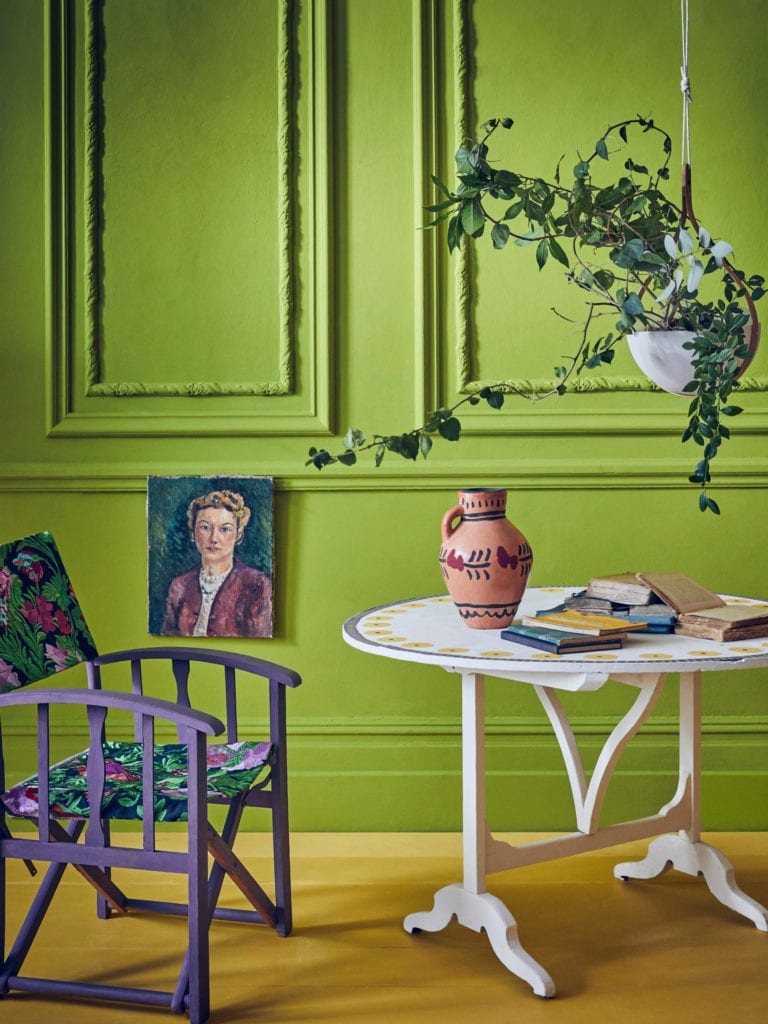 This room is painted using all three of the Chalk Paint™ colours Annie specially developed with Charleston; zesty green Firle on the walls, buttery warm Tilton on the floorboards (for more on painting your floorboards, click here), and a splash of rich, damson Rodmell on the chair. That's one exceptionally easy way to bring Charleston aesthetics into your own domestic sphere.
If you'd prefer to channel Charleston on a more micro level; a wink to the property and the Modernist design movement rather than an outright reproduction, look to the details. Painted jugs and circle motifs require less commitment than a bright green wall but still make for a strong enough reference to earn serious design kudos. This circle pattern, seen around the edge of this table is repeated throughout Charleston and is easy to replicate using a bowl for the larger circle and an Annie Sloan Detail Brush for the central dot. The hatched trim is another small but powerful design element and is seen all over Charleston – including around door frames.
Painted jugs were a modernist reference to the Ancient Greek and Roman tradition of pottery – a tradition which has taught us so much about the lifestyle and culture of these civilisations – and you can make your designs as complex or as simplistic as your talents and time allow!
Even painting a jug, a vase, or a picture frame in a colour used somewhere else within a room is a brilliant way to tie a scheme together – in the way the Rodmell used here matches the chair and the border along the table. It's these small details which give a home the most polished, pulled-together look and they are just as effective in any colour way, and in any style.
Shop
Featured Products